Lovense expanded their buttplug line by 2 new sizes! The super thin 1″ which is roughly the size of your index finger, and the humongous 2.25″ which is only for advanced users with loads of experience!
Is the Lovense Hush 2 a new version?
Not entirely. The Hush 2 is more of an extension of the Lovense line of buttplugs. Previously you could get the Hush in two sizes, 1.5″ and 1.75″. The Hush 2 is more like adding two new sizes to the Hush family instead of a new version. Of course since these toys are newer they might benefit from some improvements Lovense has made over the years regarding the bluetooth antenna and design. For example the original Hush had the antenna on one side of the base and it did matter if that pointed towards your back or between your thighs. The Hush 2 has no such thing anymore. Still, if 1.5″ is your preferred size, the 1″ will be way too thin for you and the 2.25″ is definitely NOT going to fit you.
How much bigger the 2.25″ really is?
The numbers here are a little bit tricky, since they mean the diameter at the widest point of the plug. This means that in order to fit the 2.25″, you anus has to stretch 2.25 times the size compared to the 1″. But when it comes to volume, the 2.25″ Hush 2 is closer to 5-6x the volume, so it's much much larger. it's insertable length is 1.3x longer too. After inserting it, the neck part is the same witdth as the 1″ Hush 2 itself. So only go for this if you truly are experienced with larger toys.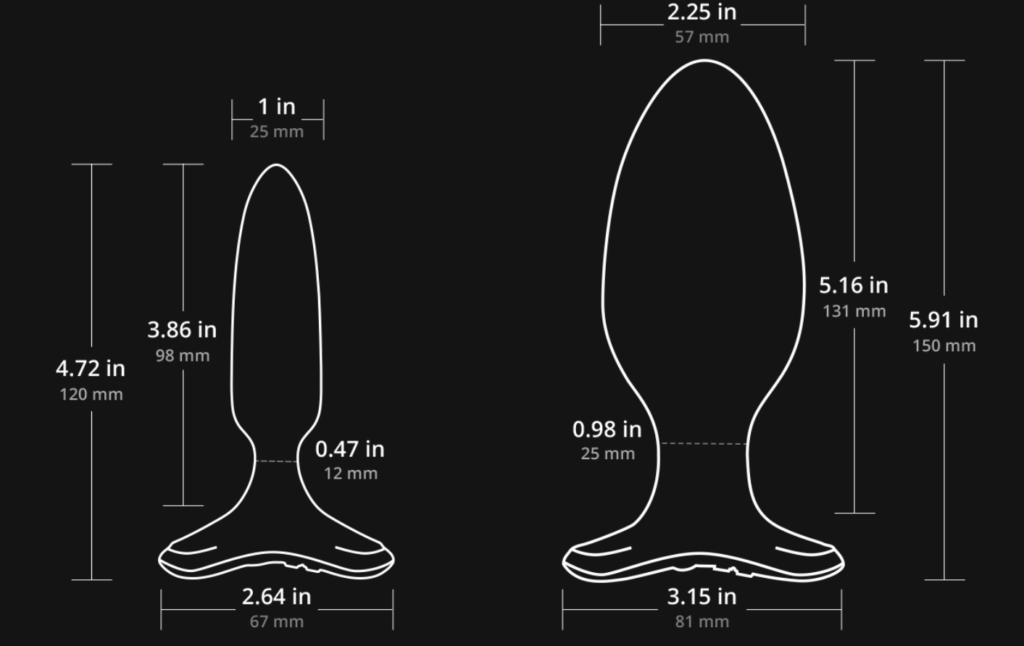 Which Lovense Hush buttplug is best for me?
To choose which plug to go for, you need to take into account a few of your preferences. The main differences are size, vibration strength and battery life (longer battery life also means longer charging time!). As you go up with the sizes you'll get more and more battery life and stronger and more deeply penetrating vibrations. A good beginner's guide would be this: if you can fit your index finger inside you and it feels comfortable, but also more than enough, go for the 1″. If one finger is not enough and you're more comfortable with 2 or even 3 fingers go for the 1.5″. If 3 fingers is your default and you can easily do that anytime, the 1.75″ could be a better fit for you. If you're 4 fingers or above (getting to fisting levels) then the 2.25″ is a good choice for you. But chances are if you're at that level you're already very familiar with which sizes work for you and you don't even need this guide.
Lovense Hush 2 features and specs
The 1″ Hush 2 will give you up to 2 hours of continuous use and you can charge it completely in 40 minutes, while the 2.25″ can go up to a whopping 11 hours, but the charging time is also much longer, clocking in at 155 minutes!
Both are IPX7 waterproof, so feel free to take them with you to the shower, bathtub or hot tub.
They have only 1 button on the base which you can long press to turn them on / off. While on, you can use the same button to cycle through the built-in modes which are 3 levels of continuous vibration and 4 different patterns.
The app has tons more features of course including sound activation, remote control, downloading or recording your own vibration patterns and much much more.
Verdict
The Hush 2 is a great extension of the interactive buttplug line offered by Lovense. If you want to try interactive anal toys but so far felt like 1.5″ is too big for a first step you can finally join in on the fun with the 1″ Hush 2, and if you're an advanced user who really likes that filling sensation the 2.25″ can finally give that to you! The quality is great as with all Lovense toys, and the price is also very affordable!
Video review