Balldo review – turn your balls into a second penis and experience your first ever ballgasm
What is the Balldo?
The Balldo is a sex toy, that turns your balls into a second penis, or dildo. Balls+dildo = Balldo, get it? I'd much rather compare it to a plug though, as you don't use it in an in-out penetrative motion. It's rather something you put in, then keep in. The way it works is it provides a semi-solid frame around the testicles, while still leaving them mostly free to sense the inside of the vagina or anus, and leaving room for them to be gently squeezed by the receiver.
Is the Balldo for you?
The big question with most sex toys. Is this going to feel good to me? I always say that all sextoys have a learning curve. You need to spend time with them to learn what feels best for you, and how you enjoy using them the most. This is especially true for the Balldo. Don't try to rush in for a quickie and expect great results. Set some proper time aside, get comfortable and relaxed, warm yourselves up and then take your time. The best position to try for insertion is the receiving partner laying on their backs and lifting their legs up in the air, towards their heads. Here are some pointers to help you decide if the Balldo is the ideal sextoy for you, or not.
For the receivers
First of all, the Balldo is BIG. Not huge huge huge, but it is still bigger than your average dildo or buttplug. It's a whopping 49mm (1.92 inches) in diameter. The total insertable length is between 105 and 135mm (4.13in – 5.31in) depending on the spacer rings being used. So the big question is not the length, but the girth of this toy. It is thick. Just for comparision, the head of the Lovense Domi 2 magic wand and the bigger Lovense Hush buttplug are 1.74 and 1.75inches. The Lovense Lush 3 is 1.5inches at it's widest part. So we can say with certainty that this toy is rather thick. Especially if you plan on using it for anal penetration. Of course there are people out there fitting entire soda bottles up in their bums, but if you're just an average person enjoying some occasional anal play, this toy is almost guaranteed to be a challenge for you, so make sure to test yourself and see if you can accomodate it's size.
For the givers
There's a pretty long scale going from 'don't ever touch my balls or I'll scream' all the way to CBT (cock ball torture in BDSM). Depending on where you are on this scale, the Balldo can be unusably painful or orgasmicly amazing, giving you a shaking orgasm in a very short time. To check if it'll feel good for you try squeezing your balls gently. If a 2/10 strength still feels good and you can tolerate 3-4/10 for shorter times (while your balls 'plop' in place inside your partner) then you should be good to go. If even a 3 is too much for you, unfortunately you'll have a hard time trying to insert it into your partner.
How to use the Balldo?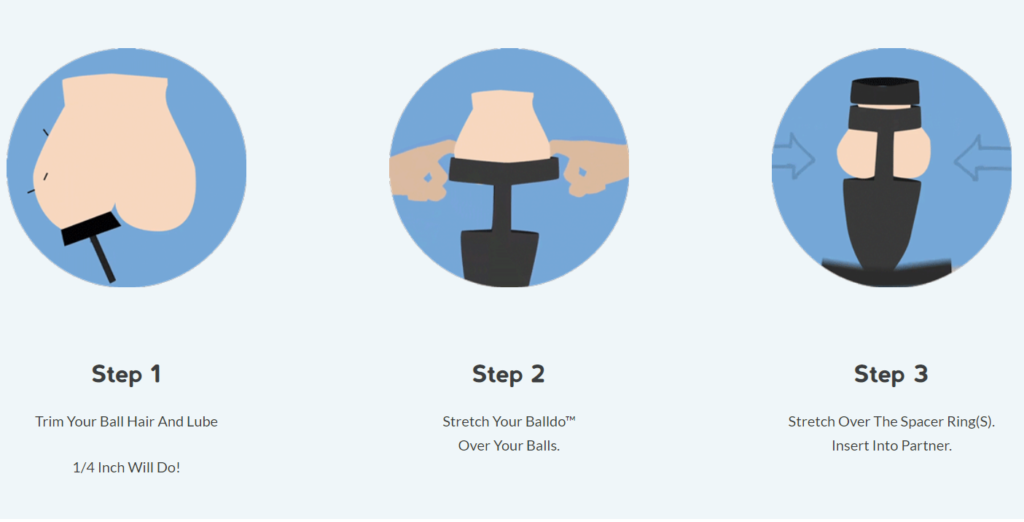 I highly recommend not skipping the shaving part! If you have longer hairs on your balls, it'll be extremely difficult to remove the balldo without pulling some hairs or pinching. Adding some lube helps your balls slip inside the Balldo, but in my case it also made it very hard trying to remove it, so what I've found to be best is taking a shower with it still on, and removing it in the shower after the lube has been washed away and it's no longer slippery. I have rather large balls so I had to stretch it quite a bit and I was very scared of accidentally releasing it mid-removal and it snapping back on my balls forcefully. So the shower thing is the method that worked best for me when removing it. If you have lower hanging balls you get two spacer rings that you can pull over the Balldo all the way to the base of your scrotum to make the skin a bit tighter.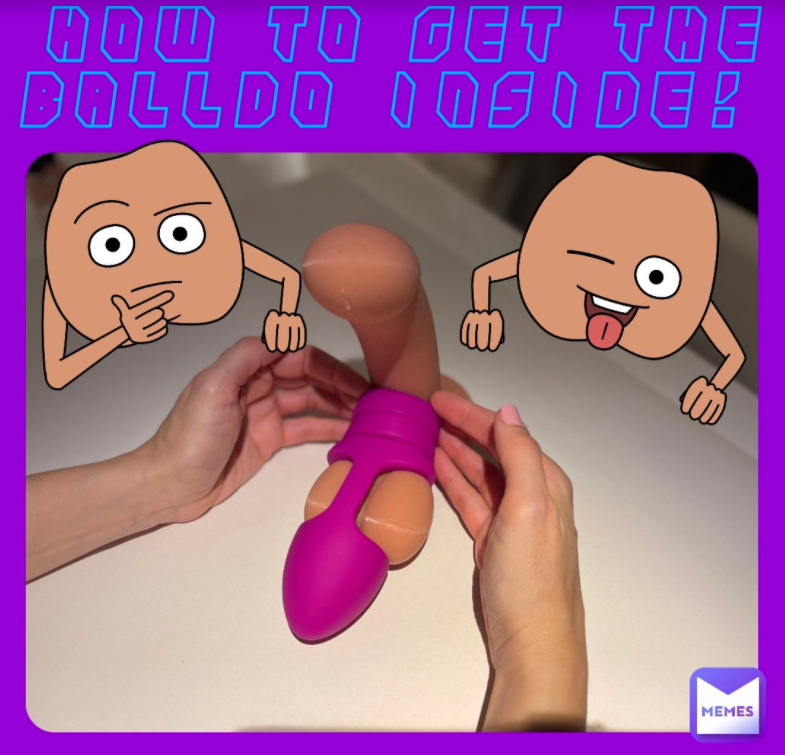 A VERY IMPORTANT tip when trying to insert the Balldo is to let your partner grab the base of it and gently pull you inside them. This should give them more control over the pace of insertion and also help you as there's no need for you to actively push it in.
Okay, but how was it?
For me it was a bit scary at first. I'm at the 1/10 part of the scale where a very gentle touch on my balls can feel good, but anything more intense causes a very unpleasant sensation. So I was very very afraid while putting it on (and then also while removing it). We did try insertion with a partner multiple times, but it was just too intense for me and a bit uncomfortably thick for them. Then we tried to switch roles with a friend of mine (guy) and we tried inserting his balls into my ass, but it was way too big for me. I kept trying with just the Balldo without their balls in it, but it's just too big for me. So I ended up using a stroker (the Alexis Fawx stroker from the FeelStars Collection by Kiiroo to be specific). The big advantage with the stroker was that I could just stretch it as wide as the Balldo itself, gently pull it all the way over my balls, like you put on a sock, and then carefully release it. This way there was no sphincter to push through, and I was able to experience what it feels like being inside. For my personal scale even this was borderline too intense. While keeping it completely in place it felt okay, but as soon as I moved it I let out an audibe "ow, ow, ouch". But I can't emphasize enough that this is my scale. I have a friend who can even cum from having his balls squeezed very very hard, so it just depends on you. For some clitoris owners a magic wand is way too intense and painful, and for others a womanizer does nothing. It's not a bad thing, you just need to find a good match 🙂 Also, after using it a few times I read in the instructions sheet that people who are predisposed to testicular torsion should consult their doctor first and I've had testicular torsion (even needed surgery) when I was 11. I did call my doctor just for the heck of it. Well, that was one interesting conversation 😀 At the end he said it probably won't cause an issue, but it's better if I don't risk it so I guess that's also a minus for me.
Pros and Cons
+ very fun idea and an amazing toy if you enjoy some squeezing sensations to your balls
+ you can even wear it during the day, not just for penetration
+ the spacer rings can be perfect cock rings if you're the right size (I am and I love them!)
+ a unique and new way to experience penetration with your partner
– can be too big for the receiver
– can be too intense or painfor for the giver
Verdict
I'd say the Balldo wins the most creative sextoy I've seen in 2021 award without a doubt. With uniquness and creativity also comes the thing that it's just not for everyone. But I think we can say that for most sextoys. I tried to do my best and give you as much useful objective information and personal experience as possible so you can decide if the Balldo is for you or not and I really hope it helped!