Syncbot Review – An AI powered automatic masturbator
What is it and who is it for?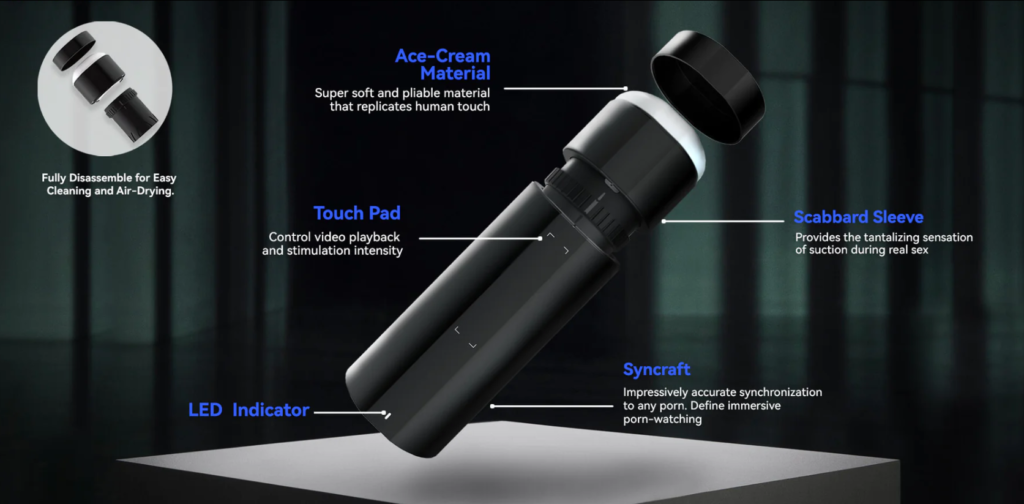 The Syncbot is an automatic masturbator for penis owners. It comes with SyncPlayer, a video player that you can install on your PC and use to analyze your porn library and make all your videos interactive. It uses an AI model trained on more than 3.8million hours of porn to analyze videos on your harddrive and make the toy move as close as possible to the action you see on your screen. It also offers SyncBrowser (currently in beta, will be available to everybody later) which makes it compatible with pornhub. You can watch any video on the pornhub site that has been analyzed or request any of them to be analyzed (in my experience so far it doesn't take long, less than an hour). More info on SyncBrowser is coming later in a separate review.
The Syncbot is for anybody with a penis who enjoys high-end automatic masturbators. It's really top of the line when it comes to build quality, sensation and features. This is also reflected in its price, so it's an investment, but a good investment nevertheless.
How does using the Syncbot feel?
The inside mechanics are my favorite things when it comes to the Syncbot. It strokes up and down, it can grab your cock by twisting the sleeve around it, and it has a cup inside that spins freely, driven by magnets. Thanks to these it can pretty accurately simulate how either a handjob or a blowjob feels. Don't worry if you're into penetration, it'll be very enjoyable to watch penetration scenes, but if I had to describe how it feels with your eyes closed, I'd definitely go with an expert, sloppy blowjob. Not the lazy, lips only kind! The enthusiastic, double hand twister, lots of tongue action, soul sucking kind. I've gotten my fair share of blowjobs from quite a few people and I have to say, this toy ranks way up in the top 10 percent!
Hardware, specs and packages
Color:Black
Size:Syncbot (with Scabbard) 68*80*225 mm, Scabbard 68*80*(135 mm + 35 mm)Weight:Syncbot (with Scabbard) 1010g, Scabbard 396g
Button:Buttonless design, Touch-Gesture-Control
Charging:2 hours
Usage Time:1.5 hours (Fully charged)
Standby Time:≤ 3 months (Fully charged)
Working Noise:<60 dB
Waterproof Grade:Syncraft ipx-0, Scabbard ipx-7
Connectivity:Could only connect via Synchub
Video Player:SyncPlayer (included in Synchub)
Supported Formats:Fit to majority of formats:.mp4/​.avi/​.rmvb/​.flv/​.mkv/​.wmv/​.vcb. etc
Time-consuming of Analysis:1/3 to 1/5 of the video duration
System Requirements:
System Type:64-bits Operating System, Windows 7 (SP1)/Windows 10/Windows 11Processor Type:x64-based processor (such as Intel Core i3/i5/i7/i9, AMD FX-Series etc.)
RAM:At least 4 GB
HDD Requirements:8 GB free space on App installation volume. 18 GB free space on user profile volume (usually system volume).
Currently there are two available packages, the SyncPackage Lite and SyncPackage Pro.
The SyncPackage Lite comes in a very nice, high quality cardboard box and in it you'll get the Syncbot with one Scabbard (the sleeve part), a USB dongle that you'll need to connect your toy to your computer, the software and a quick start guide. The pro package adds a second scabbard (there was a limited transparent edition available for a short time which looks AWESOME, so keep your eye out for it on their twitter or on the site!), a caliper tool that helps with assembling the scabbard after cleaning, and 8 cartridges of lube. This package comes in a hardshell case that looks really cool!
Cleaning and care
Cleaning is very easy, you can pull the scabbard out of the main body of the toy and disassemble it into 3 parts. Simply wash them with soapy, lukewarm water or use a gentle, alcohol-free sextoy cleaner. Dry everything separately, assemble them and you're ready for your next use. I always like to charge my toys fully after cleaning, so I can be sure that they'll be waiting for me with a full charge the next time I want to play. If you're not planning to use your Syncbot for a while, it's a good idea to apply a bit of baby powder or corn starch to the sleeve to prevent them from getting sticky. Simply rinse it off before your next play session and you're ready to go! IMPORTANT! The Synccraft unit (the main part of the toy) is NOT waterproof! Never use water to clean it. Simply wipe it down with a damp cloth if you got some lube or other fluids on it.
Apps and features
When you buy the Syncbot you'll get the SyncPlayer with it. The installer is on the USB dongle. This software is free for unlimited use and you can use it to analyze and play your offline videos on your hard drive. This makes the Syncbot the only interactive toy that can automatically analyze and react to your home videos without the need for them to ever leave your drive.
SyncBrowser is currently in beta. You can apply on the official syncbot website to get access, and it will be open for everybody later. It's currently compatible with pornhub and it'll be a paid subscription service when it fully launches. I've been playing around with SyncBrowser for a while now and I absolutely love it! My favorite new features are the heatmap showing not just where there's action on a video, but the intensity as well, so I can intuitively know where to jump in the video if I want some fast action, or if I want to slow down a bit.
There's also new controls! You can now separately control the three movement types: stroking up and down, twisting the sleeve to grip hard on your cock and spinning the inner cup around the head of your cock. The latter two's intensity can also be adjusted with a slider besides turning them on and off. I think these new options make it possible to even further customize the experience so it matches my preferences perfectly.
How accurate is it?
It's very good! I'd say it matches 80-90% of the action with 80-90% accuracy. I didn't feel any noticeable difference compared to most manually created scripts for other interactive toys. I wouldn't say it'll match every single movement millimeter by millimeter, but it's pretty much on point. I was really happy with how it reacted to scenes with more than two people and it was quite good at detecting the action with even the weirdest angles of the weirdest sex positions.
How does it compare to its main competitors?
When it comes to sensations, I'd say this is hands-down by far the best blowjob experience of all the toys I've ever tried! When it comes to AI accuracy so far it beats FeelMe AI by far. The Lovense toys are interactive, but they cater to different use-cases, and Lovense offers no automatic strokers. The Handy is much lower quality, and has less features with no AI. The Autoblow AI+ offers no connectivity to interactive content. The closest competitor is the KEON by Kiiroo with FeelMe AI, but the AI model of the Syncbot is currently much better and a big difference is that the KEON's main type of stimulation is simulating penetration while the Syncbot can simulate various sensations and excels in blowjobs and handjobs. So depending on which one you like more that can be a big deciding factor too.
Final thoughts, verdict
I love everything about this toy! It's one of the most expensive automatic strokers, but I'd say the price is totally justified by how awesome it is and how much attention to detail went into designing it. I love how actively it's being developed and can't wait to see where the future will take us!