Hot Octopuss offers new BDSM toys
I got to try some of the new additions to Hot Octopuss' BDSM line of toys and I very quickly fell in love with all of them. The quality is excellent and all of them gave me some very enjoyable moments! They are all made in the UK and they are Genuine Leather. They smell and feel amazing!
Lether Folded Paddle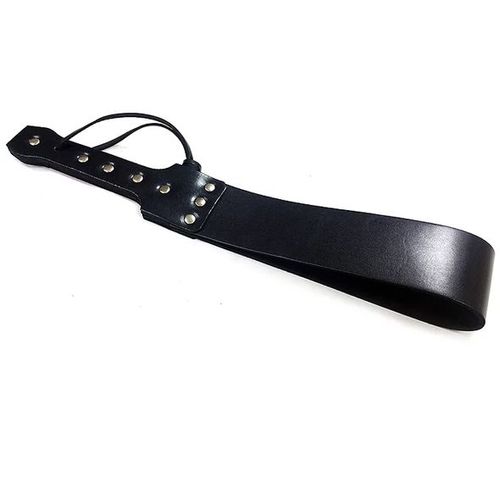 This Paddle was very fun and a great fit for me personally. If you like sounds you'll love it because you can get pretty loud with it without inflicting too much pain. The sensation is closer to a thud than a sting, so if you're into that (me, me me!) it'll be very fun to get this Paddle used on you. As a top I don't have much experience, so I very much enjoyed how easy it was to aim with this paddle. Compared to whips and floggers it went exactly where I wanted it to and I was able to go a bit faster with it very confidently. The surface is smooth but also has a bit of texture, so just gliding it across the skin is very enjoyable. The Handle is made with rivets, which really contribute to the aesthetic of this paddle! For only $39.95 it's a steal!
– Length: 44cm/17.3″
– Width: 6cm/2.4″
– Price: $39.95

Get the Hot Octopuss Folded Paddle here!
Leather Flogger H Style
This flogger is currently my absolute favorite. With it's 35cm fall length it's a really good match to my experience level as it's pretty easy to aim with. I really like the weight and I think it's very well balanced. It's a good idea to flog a pillow for a bit after getting it, because it'll shed a bit for the first few uses and will leave some small bits and a black-ish colour on your bottoms skin otherwise. If that's not an issue for you just go ahead and start using it right away. I absolutely love the wind it creates before hitting my back. Depending on the aim it can both provide a very nice thud but also a pretty intense sting.
– Number of strands: 76
– Leather Strands: 6mm wide x 2mm thick
– Fall Length: 35cm/13.8″
– Handle length: 18cm/7.08″ (with strap 34cm/13.4″)
– Price: $46.95

Get the Hot Octopuss Flogger here!
Leather Ball Gag with rubber ball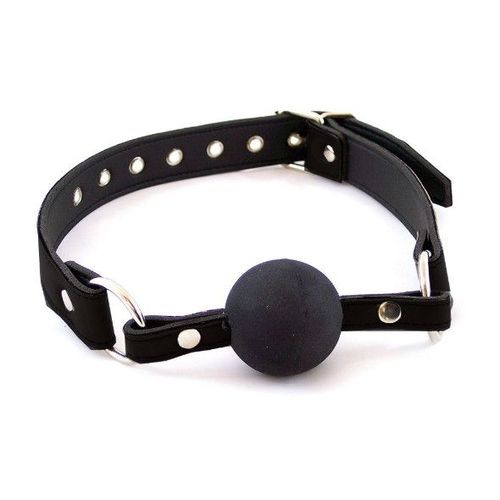 It's the smell for me. The Rubber ball smells like new car tires, or the base of brand new boots. It drives me wild, I absolutely love it! It feels really nice, and extremely sturdy! The adjustable strap was very comfortable and fit my head easily. It was easy to clean after use, and thanks to the ball being able to slide left and right on the middle part, it was very easy to dry too. It'll fit heads between 22″/56cm and 17.5″/44.5cm, which I'd say covers most people. For $29.95 it's extremely affordable and offers a pretty great quality for the price!

Get the Hot Octopuss Ballgag here!
Leather Wrist Cuffs (Padded)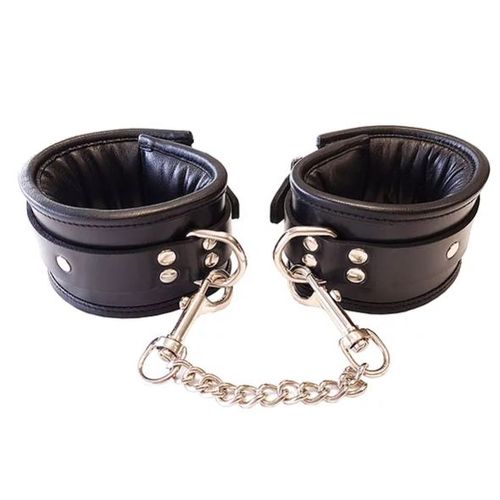 The wrist cuffs come with a fully detachable trigger hook chain. They are very sturdy, and the padding feels super soft and comfortable. You can adjust the size easily with the buckle when putting it on your sub. I did use cuffs that were easier to put on, and the trigger hooks on the chain don't glide too smoothly, but that can easily be fixed with a teeny-tiny bit of WD40. I do love that the prong has a little loop at the end that goes through the belt, so once on, you can actually put a small padlock on it and lock it onto the wrist of your sub and send them on their way, keeping the key. They will only be able to remove it once you remove the lock. The largest wrist that you'll still be able to put it on is ~8cm in diameter. It was very comfortable to wear it for multiple hours and it didn't leave any marks. Even if I let my arms hang a bit cuffed to my St. Andrew's Cross, it was very very comfy. I'd say these are very good looking, very comfortable cuffs for the $49.95 price, but don't expect to be able to put them on a sub who resits even the tiniest bit 🙂

Get the Hot Octopuss Wrist Cuffs here!
4 Piece Pinwheel Set
Wherever I went, whatever party, munch, gathering I went to, everybody loved this pinwheel set! Once you open the soft zipper puch, the stainless steel handle and heads look amazing and intimidating at the same time. If I'm being honest the pouch doesn't have the most amazing build quality compared to the rest of the toys, but it does it's job perfectly. If you go for visuals in your sessions and want to be very high class, you'll most probably want to upgrade to a different holder for your set though. The handle is screw-on, so a very important tip here is to make sure it's screwed on very tightly and is secure before use, otherwise the smaller heads (single, double) might flip to the side if you aply too much pressure causing unintended pain or tearing on your subs skin. The heads come as single, double, triple and the biggest with 5 spinning wheels. Whatever intensity you're aiming for, you'll most definitely find the perfect fit. The heads and handle feel very sturdy and they rotate very nicely and easily. The metal is super-easy to clean and disinfect. Everyone I showed this set to, got very excited about it immediately. Even in a more vanilla crowd it got quite a few people interested and curious as soon as I unzipped the pouch. It does have a heftier price at $79.95, but I think it's a very reasonable price as you won't get this quality for much less!

Get the Hot Octopuss Pinwheel Set here!
Video Review