LELO F1S™ V2 review – a pretty smart high-end male masturbator
What the F1S™ V2 is and how it works
Just like with music in movies, you know it's really good when you don't even notice it's there. Cruise control is just like that.
The LELO F1S™ V2 is LELO's smart male masturbator for penis owners. The v2 packs twice the power than its predecessor to give you shakingly strong stimulation. The two main attractions with the F1Sv2 are Cruise Control and Sensonic. For app developers: it also has an SDK which makes it one of the very few automatic male masturbators that you can develop apps for!
Cruise Control basically means the device reserves the top ~20% of its available power and only unleashes it when it feels the motors are struggling and their RPM is about to drop. If you already have one or two toys you're most probably familiar with the sensation of their vibration intensity dropping when you press them harder against your body. It can be frustrating as you're pressing harder because you want a bit more intensity, but it often feels like you're overpowering the little device in your hands. Well, cruise control is here to help with that. You'll still be able to overpower the motors if you go extremely hard, but with average use you will not feel the power drop as you usually do with other toys. It was around the third time I played with it when I realized how good this is. Just like with music in movies, you know it's really good when you don't even notice it's there. Cruise control is just like that. You won't even notice it's doing its job, but you'll definitely feel the difference when you go back to another toy after playing with the F1Sv2.
SenSonic on the LELO site is decribed as: "It's the same high-tech concept that made the LELO SONA™ the world's bestselling sex toy of all time. Instead of standard vibrations, one of the motors emits powerful sonic waves that permeate deep into your penis, making it feel as though it's resonating pleasurably from all directions all at once, instead of simply tickling the nerve endings on the surface of your skin. It will help you achieve the most overwhelming orgasms of your life." In reality it means there's a little ring shaped thingy connected to the motor (like a mini speaker) right under your frenulum. As it vibrates up/down at a speed of up to 4200RPM you can technically say it does act as a mini speaker. It actually does what's being advertised. The vibrations do permeate your cock and do feel like your entire cock is vibrating. I'm not sure it's because of sonic waves, but as long as it works I'm just happy it does. If you have a Hot Octopuss Pulse toy, it's very very similar to how the PulsePlate feels on those. If you go gentle with the power it can give you an amazing stimulation on your frenulum. I think this might be similar to how the clit sucker toys or the Arcwave Ion feel like.
What does the LELO F1S™ V2 feel like?
Male sex toys can feel very different and the F1S™ V2 combines a few basic elements. Since the seal around your shaft is so good you get pretty intense suction on the head of your cock if you stroke with it. In this way it feels like any small blowjob/glans toy, like the Satisfyer Men Heat+Vibration or the Leten Oral Cup. The Sensonic driver feels like the Hot Octopuss Pulse toys on high and more like a clit sucker toy on your frenulum on lower power. Combine all of these sensations and you get the F1S™ V2! It's a very nice, unique combination of some of my favorite sensations a toy can provide. And the power is more than decent!
F1S™ V2 Specs and features
Material: Body-safe silicone, ABS, Aluminum alloy
Color: Matte Black / Red, Gunmetal / Midnight Blue
Size: 143 x Φ 71 mm / 5.6 x 2.8 in
Insertable length: 110.72 mm / 4.3 in
Internal girth at rest: 129.5 mm / 5.07 in
Internal girth max.: 150 mm / 5.9 in
Weight (only product): 285 g / 0.62 lb
Battery: Li-lon 850 mA 3.7V
Charging: 2 h at 5.0V 700 mA
User time: 2h
Standby time: 90 days
Frequency suction motor: 60 Hz
Frequency vibration motor: 90 Hz
Interface: 3-button
App control vs. Manual mode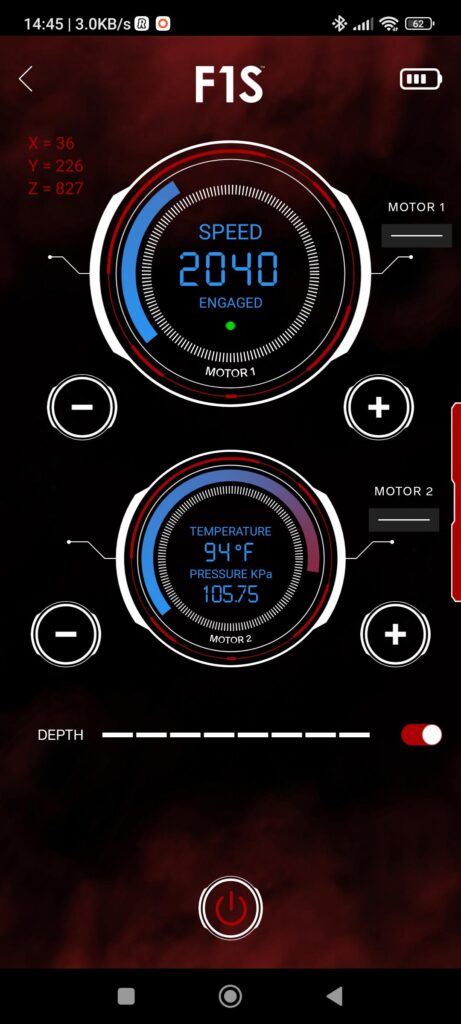 In app control mode you can control the two motors separately and get feedback from all the sensors. The top dial lets you adjust the motor responsible for the "air-pulse" part around your frenulum, while the lower one let's you control the vibrating motor right at the entrance of the toy. The interface looks super-cool, but you need to spend some time to fully explore all of the features. Besides controlling power, if you click the little horizontal line under the "MOTOR 1" and "MOTOR 2" labels you can actually select from 7 vibration patterns for the specific motor. With both motors having 8 levels of power and 7 available patterns to choose from, if you include the combinations where you only have one motor running, you end up with a total of 3150 different combinations to find your ideal one at any given moment. If you have some very favorite combinations you can actually go into 'MODE CREATOR' and store 4 different settings onto your toy. So compared to other toys that usually have some built-in patterns for offline mode, with the LELO F1S™ V2 all 4 slots are totally customizable through the app, so you can play with your favorite settings even if you're using the toy in manual mode.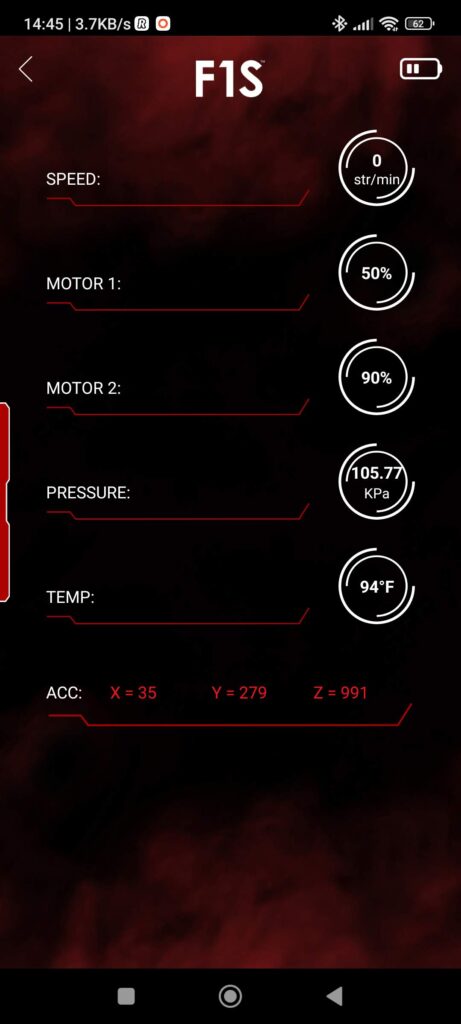 The description says the F1S™ V2 has 10 sensors to help it accurately track what's going on at any moment. These are mostly interesting for developers wanting to make apps or games for the F1S™ V2 as it has an open SDK! I was only able to identify 9 which are: speed of stroking, depth of penis inserted, motor1/2 RPM, pressure which is weirdly just showing the atmospheric pressure of your current room. Since theF1S™ V2 has a pretty good seal around the base and can provide a quite intense suction when you pull on it, I think having the internal pressure as a datapoint would be more useful. Currently you can only tell if somebody is lifting it higher up in the air or putting it down. Internal temperature, X/Y/Z axis position.
Quick tip here: If you're having a hard time figuring out how to hold the toy for proper control for the built-in shooter game, just go to 'PLAY' mode and check the X/Y/Z values, those should help 🙂 If you hold it so the LELO logo is upside down from your perspective and the window on the device is on the left side, you should be good. That's also the position it's intended to be used in as this way the little air pulse part is right under your frenulum providing you with the intended stimulation.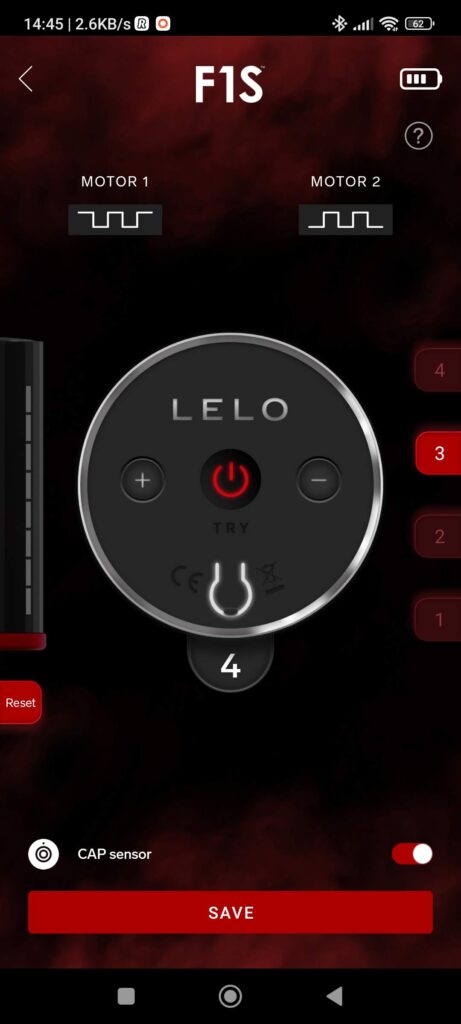 In manual mode you can use the power button to cycle through the patterns you saved to the slots previously. They come with some default combinations out of the box. The LEDs on the base show you which slot is currently selected. Even though you can save the power levels too in the Mode creator, you can use the +/- buttons to increase and decrease the power in general.
Game Mode!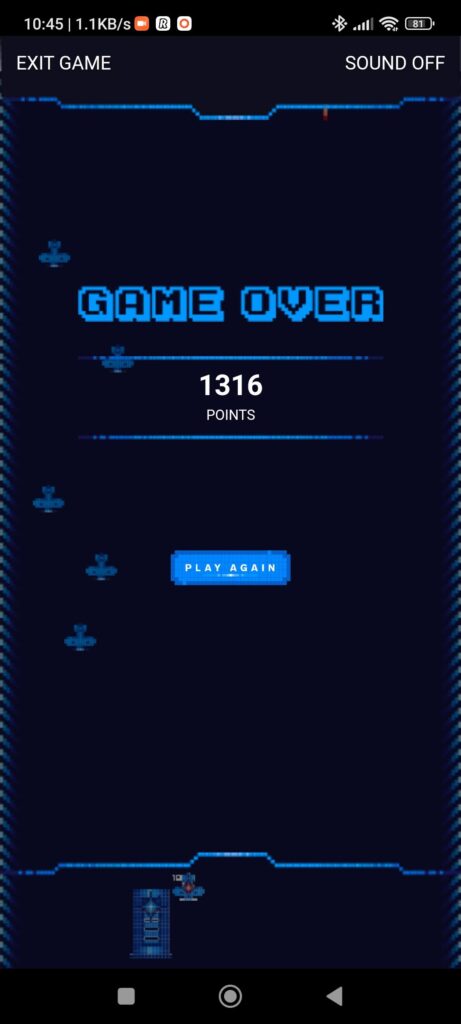 Game mode is basically just a demonstration to show developers what's possible with the F1S™ V2 and for you to have fun. Planes are coming from the top of the screen and you're at the bottom. You can move left and right by tilting your stroker left or right and shoot by stroking. It's pretty hard at first and stroking kind-of confuses the accelerometers a bit so you can't accurately move left/right and shoot at the same time. I did need to practice a bit but after a few minutes it got easier and fun 🙂 The best strategy I've found so far is to simply move, then stroke to shoot then move again and repeat. It's a fun concept. What it could also be used for is games like MirrorLife or VirtualMate where you control the sex action with how you stroke. Hopefully as sextech matures more and more games and exciting app ideas become available!
Video review