LELO IDA Wave review – hands-free dual stimulation vibrator?
To me it was a huge turn-on and incredibly satisfying watching my partner lay on her back, with her hands behind her head, letting the IDA Wave do its thing and moaning from pleasure!
What the LELO IDA Wave is and how it works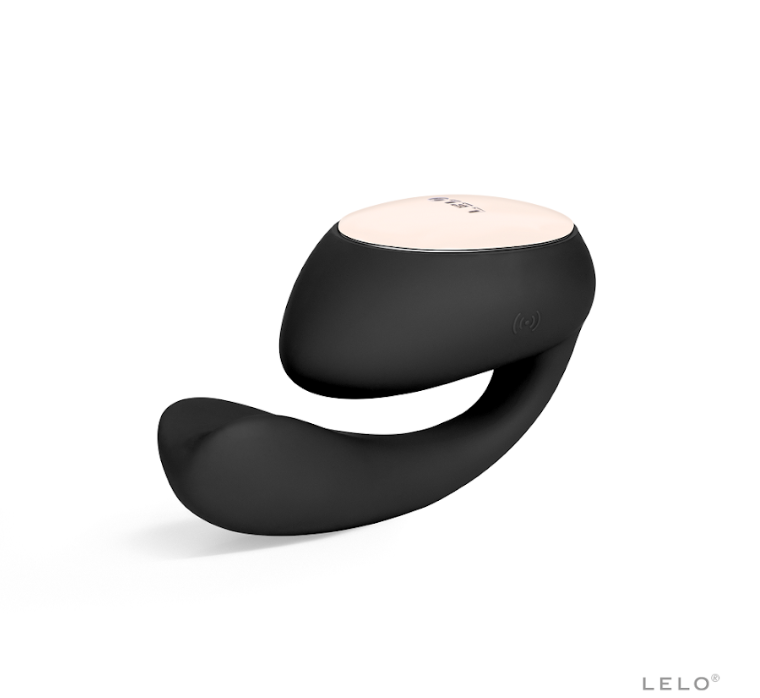 The LELO IDA Wave is the newest addition to LELO's line of female toys. It is an app controlled vibrator for clitoral and G-spot stimulation. It's mainly designed for solo play, but you very much can spice up your playtime as a couple too! To me it was a huge turn-on and incredibly satisfying watching my partner lay on her back, with her hands behind her head, letting the IDA Wave do its thing and moaning from pleasure! The body of the toy (the bulky part) gives you clitoral stimulation while the longer tail goes inside your vagina and stimulates your G-spot with circular motions and with also having the vibrations traverse through it from the motor. It's smaller than the Lovense Dolce but the vibrations have roughly the same intensity. The main differences are the Dolce having two motors simply providing vibrations inside and outside, while the IDA Wave vibrating on your clitoris while massaging your G-spot in a circular motion. The insertable part of the IDA Wave is much smaller than the Lovense Dolce's.

What does the LELO IDA Wave feel like?
The tail part is small and flexible, yet puts a very nice amount of pressure on your G-spot. It feels pretty much like someone having two fingers in you and gently massaging your G-spot in a circular motion. You can either hold the outer part and fine-tune the clitoral stimulation that way, or you can simply let go and lean back. In that case the tail's circular motion actually causes the body to move in small circles too! So instead of just staying in one place it'll go in small circles on your clit, which is awesome if you like that kind of movement. If you're more of a 'find that one spot and stay right there like your life depends on it' person, then you might need to keep holding the IDA Wave while you're playing with it. Also if you're not always in the mood for internal stimulation you can simply turn the toy around and just use the clitoral part to have some fun! This way the tail will point towards and touch your pubes, but you can simply put your other hand below it if that bothers you.
LELO IDA Wave Specs and features
Material: Body-safe Silicone, ABS
Size: 63 x 56 x 93 mm / 2.5 x 2.2 x 3.7 in
Weight: 102 g / 0.22 lb
Battery: Li-Ion 3.7 V 520 m Ah
Charging: 2 h at 5.0 V 200 mA
User Time: Up to 2 hours
Standby: up to 90 days
Frequency: 130Hz
Gear motor Frequency: 1.4Hz
Interface: Single button
Modes: 4(Default), can be configured to 10 through the app
How to use the IDA Wave, app control vs. manual mode
Manual mode (and manual mode settings through the app)
The first step is to turn your gorgeous little dual vibrator on. You can do this by long-pressing the only button on its side opposite to the charging port. The LED will start blinking showing you it's ready to either connect to your phone, or for manual control. From here you can simply cycle through the saved modes by short-pressing the power button on the side of the toy. By default there are 4 modes you can cycle through. There are 10 different modes in the LELO app and you can actually configure which modes are enabled for manual mode from the app. You can simply enable your favorite ones and save them onto your IDA Wave and from then on those will be the modes you can cycle through in manual mode. Pretty cool! Through the app you can also set the intensity for manual mode, but only as a general setting, so that'll be the intensity for all the enabled modes, you can't set individual intensities and there's no way to increase or decrease the intensity in manual mode. The Auto power off time can be set between 10 and 30 minutes in 5 minute increments.
App control
Through the app you have full control over the features of the toy. You can basically select which of the 10 modes you'd like the toy to vibrate in and set the intensity in 3 different ways:
Screw: turn your phone along its long axis to set the intensity
Shake: the harder you shake your phone the more intense the toy vibrates
Boring: You have plus and minus buttons and you can simply set the intensity between 1 and 10
While the Screw and shake options are fun and a nice option their accuracy depends on the accelerometer sensors in your phone and in my opinion are not really realistic to use. I wouldn't want to concentrate on how hard I'm shaking my phone for 20 minutes, I'd rather just set it with a button and concentrate on my pleasure and orgasm instead 🙂 The LELO app also gives you all kinds of tips and articles to read around sexual health, masturbation and all things sex, so it offers more than just control features for your toys. There's no game mode here like there was with the F1Sv2 since the IDA Wave has no sensors in it. The 10 modes differ in the pattern of the main motor (clit stim), and also in how intensely the tail is moving.
Verdict, who's it for?
If you like dual vibrators and app controlled vibrators the LELO IDA Wave can be a very exciting addition to your collection. If you like your G-spot stimulated by fingers it's definitely for you! The Wave Motion Technology is really nice and feels pretty good! The vibrations are nice and strong and also very stable even when you're pressing it harder against your body.
Video review