Hot Octopuss Pulse Solo Interactive powered by Kiiroo
The Pulse SOLO Interactive is the new addition to the Pulse family by Hot Octopuss. The Pulse II DUO was the first toy I've tried from this set of toys, continued by the SOLO Essential, the DUO LUX and now the SOLO Interactive. The basic feature is the same, the patented Pulse Plate technology which drives powerful vibrations to your frenulum and shaft while you stroke with this amazing Guybrator putting you on the fast track towards an eye rolling orgasm!
Box, contents and specs
The box follows the same style as all other Hot Octopuss boxes. In it you'll find the toy itself, a small pouch to keep your toy in while traveling, the user's guide and of course the charging cable. In the user's guide you'll also get a code giving you free access to some really cool interactive porn content! Because yes, this toy can sync up to interactive porn taking enjoying some of your favorite adult content to a whole new level!
Material: Silicone, ABS
Colour: Smoke
Function: 9 Speed Oscillator, 5 vibration modes with adjustable frequency
Motor: 3.6V Precision Microdrives
Battery: Rechargeable Li-ion 3.7V 420mAh
Noise Level: < 55dB
Running Time: Up to 1 hour
Charging: cable
Charging Time: 3h
Waterproof: Yes
How it works
The circle shaped PulsePlate drives powerful oscillating stimulation to your frenulum and shaft giving you intense pleasure! Thanks to the silicone wings/flaps the Pulse toys can accomodate most sizes and you can easily fine tune the intensity by changing the strength of your grip and alternating between stroking or just keeping it still at a spot you enjoy the most. The Pulse SOLO Interactive is waterproof, so feel free to use it in the shower or bathtub. This also makes it very easy to clean! Just thoroughly wash it with warm water and some mild soap or a silicone friendly sextoy cleaner, dry it and store it in a dry, cool place.
Features, app
The Pulse SOLO Interactive uses Kiiroo's tech for app connectivity and interactive features. This is amazing, because it means you can pair it up with basically all other Kiiroo powered toys, not just other Pulse toys! It can sync up to interactive videos too, and you can give control to your partner during a video call in the FeelConnect3 application.
How it feels
When I tried it for the first time the first word that came to mind was SHEER FORCE! The Pulse Plate drove insane sensations to my cock and it was so new and so powerful that it actually made me cum in about 2 minutes!!! I've been using the Pulse toys for 4 years now, and they are still among my top 3 toys ever. It varies wheter I stroke with my toy or just keep it in place hitting one of my multiple sweet spots. I also enjoy strapping it to my cock and going completely hands-free! If you do that, make sure to use something that's elastic though as when you cum your cock can get a bit thicker and if your strap is too tight and not elastic, it can turn pleasure into pain really fast! Learn from my mistakes, keep it elastic!
Similar toys
The Pulse SOLO Interactive has some siblings that are not interactive. They are very similar with some variations in features. Here's a pretty good table to show you most of the differences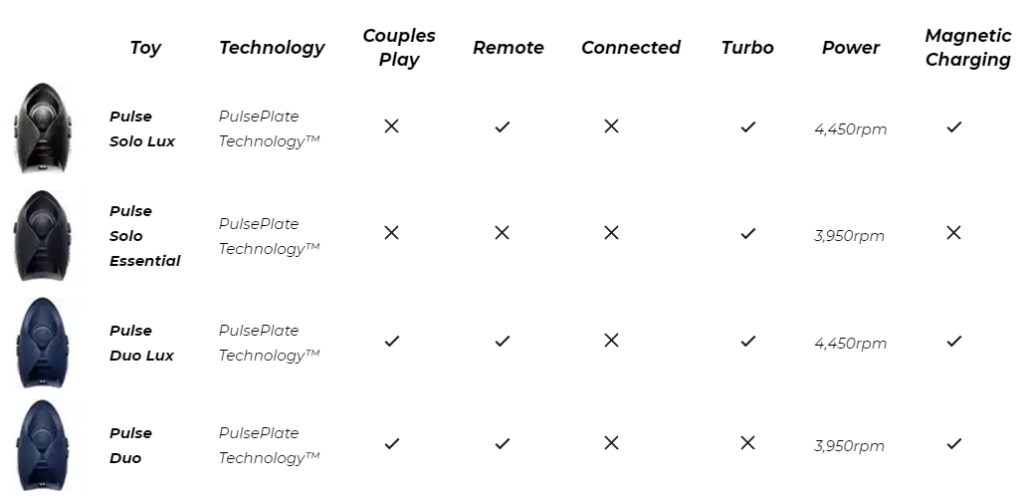 Also here are the links to the other Pulse toys with even more details if you're interested
Verdict
The Pulse toys have been long time favorites of mine, and this new addition did not disappoint! I love the interactivity Kiiroo provides, so this is truly a match made in heaven! You can use the code 'SEXTOYREVIEWS' in the kiiroo.com shop to get 10% OFF your purchase! On the other hand the Hot Octopuss store offers a 'Gay Couples' pack for the Pulse Interactive, where you can order a pack of two toys. This is awesome if you're a gay couple, as you can sync up your toys and have some interactive fun together whether you're in the same room and it's a challenge for who's able to last longer, or you're halfway across the world having some steamy fun on a video call. The cool feature with this option is that you can set two distinct shipping addresses, so if you don't live in the same city, Hot Octopuss takes care of delivering the two toys to both of your addresses for you! Check out the Duo pack here Pulse SOLO Interactive – Gay Couples Pack
Video Review
If you're interested in the video review, you can watch it on my youtube channel at: https://www.youtube.com/watch?v=Mxwxtg3Pm2s