Why the LELO Loki Wave 2?
The Loki Wave 2 is an upgraded version of the original, award winning Loki Wave. It's pretty hard to improve on something that's already so good, and if it was up to me, I'd rather call the new version Loki Wave+ based on the changes, but it's an amazing toy with some very welcome improvements nonetheless!
What's new and should you upgrade?
The Loki Wave 2 has stronger vibrations and more settings. To be exact, it gives you 12 pre-programmed modes compared to the 10 the original Loki Wave had. The patterns did improve a LOT though and I think that should be emphasized more on the website too. If you just look at the differences, 12 patterns compared to 10 doesn't sound like much, but it's not just the same 10 patterns plus an extra two, no sir! There's a pretty legitimate improvement on how they feel and how stimulating they are. To see a comparison and how all the patterns look like, check the youtube video review linked below.
The toy does come with the same 850mAh 3.7V battery, but can charge a bit faster at 5V750mA compared to the original 5V500mA. The user time is about the same at up to 2 hours, but instead of the original 100Hz motor you get a slight bump up to 122Hz. Everything else is the same. Same charging cable, exact same body (thankfully, because in my opinion that shape is pure perfection!), same materials, same button control.
You also get two new colors besides black! A different shade of blue, and the all new Violet Dusk.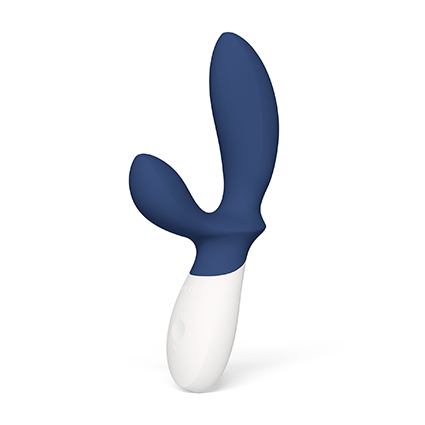 The box is a bit smaller, but it has everything that the original Loki Wave came with. Charging cable, user's guide, warranty card, lube sample and travel pouch to be exact.
The launch of the Loki Wave 2 gives you two great opportunities at once. First: If you were longing for just a bit of extra oomph, and are excited for more stimulating patterns, you can now upgrade and get that. How much stronger is it though? To be honest, not much. For detailed testing on that, watch the video review on youtube (linked below).
Second: if you were eyeing this magnificent toy but it was a bit out of your budget, the original Loki Wave is still available (as long as stock lasts probably), so you can get that MUCH cheaper (at the moment of writing this article: €113 instead of €219).
What does it feel like?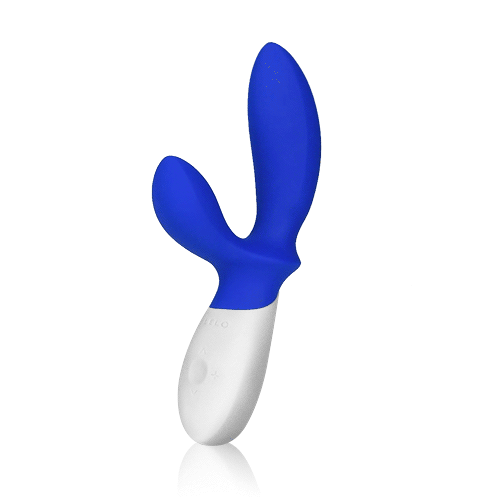 You'll need to hold the base while playing with this toy, so it's not a completely hands-free wearable. What you get in return though is extremely precise control over where exactly it presses, how firmly and at what angle. Because of the handle, you won't be able to play with the Loki Wave 2 in a completely upright, sitting position. My favorite is either laying on my stomach or on my side. If you have a partner, the play sessions with this toy will be up-close and intimate. You'll definitely have some steamy moments, as they're gazing deep into your eyes while having their arms around you, taking full control over the sensations.
The main star of the show is of course the come-hither motion which is pretty rare among prostate toys. If you enjoy your prostate being massaged with fingers, you'll absolutely love this feature. Make sure to keep holding the base of the toy as that is what gives it a stable point to exert that amazing pressure inside your body. Combine this with the different vibration patterns and a huge, exploding orgasm is guaranteed!
LELO Loki Wave 2 specs and features
| | |
| --- | --- |
| Materials: | Body-safe silicone, ABS plastic |
| Finish: | Smooth |
| Size: | 91 x 42 x 196 mm / 3.6 x 1.7 x 7.7 in |
| Insertable length: | 100 mm / 3.9 in |
| Weight: | 196 g / 6.9 oz |
| Battery: | Lithium 850 mAh 3.7 V |
| Charging: | Up to 2 h at 5.0 V 750 mA |
| User time: | Up to 2 h |
| Standby: | Up to 90 days |
| Frequency: | 122 Hz |
| Max. noise level: | < 60 dB |
| Interface: | 5 buttons |
Button control and modes
The Loki Wave 2 has 5 buttons on it's base. Simply press the center button to turn it on or off. There's no need to long-press, a single press is enough. After turning it on, use the up and down buttons to switch between the built-in patterns and use the plus and minus buttons to increase or decrease the strength of the vibrations. It is possible to press all of the buttons in a way that they click and the "LELO" logo lights up, but nothing happens. Simply press them a little bit longer and it should be all good. The plus and minus buttons can also be long-pressed, so you don't need to keep repeatedly pressing them to get to the maximum intensity. Simply hold the plus button for a bit and it'll dial up the intensity all the way. The come-hither motion is always done at the same intensity and speed within one mode. The 12 built-in modes are divided up to 3 sections. One has the come-hither motion turned off, the second has it on at a lower level and the third has it on at a higher level. The difference between the two levels (and this is just empirical) is that the lower level is about 80% the speed of the higher one, so it's a tiny bit slower. The patterns are super fun! I'm absolutely in love with the ones that gradually shift the intensity from the inside part to the outer part and back. That, combined with the come-hither motion is just phenomenal. The toy remembers which setting you used the last time, so turning it on will resume the action right where you left off.
Is the LELO Loki Wave 2 for you?
If you enjoy prostate stimulation, especially actually massaging your prostate and not just vibrations, the Loki Wave 2 is a fantastic addition to your toy box! It's premium priced, but you'll get a premium product in return, with great customer care, a one year warranty and 10 years of quality guarantee!
Video review