Lovense Hush Interactive Buttplug Review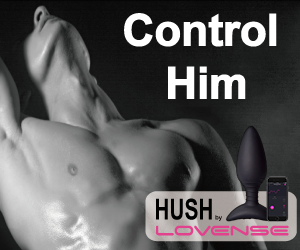 Are you interested in anal play? The Lovense Hush Interactive Buttplug is a perfect entry level toy for you! Are you already experienced or an anal 'veteran'? Don't worry! This toy has a ton of features in it's pocket that'll definitely turn up the pleasure to 11! It can be controlled from your phone, or even remotely by your partner from anywhere in the world! You can download patterns that others have created or upload your own! It comes in two sizes for beginner and advanced levels! Looks great, feels great with an increadible price tag!
Design and overall feel
The toy is completely covered in silicone with only a small charging hole on the side of the base. It feels sturdy and well put together. We especially love the spiral on the neck that helps trap extra lube near your sphincter and it really feels great!
Features
The Hush is connected to your phone via Bluetooth. The connection is decent, although you might need to experiment a bit with the direction of the antenna as your body is amzingly good at insulating the radio waves and messing with your connection. Except for a few small blind spots the connection is pretty stable within a 5m radius (depends on your phone too!). If you'd like to control your partner's toy from further away we recommend them connecting the toy to their phone and you connecting remotely with the app.
The Buttplug has one button on it's base. You can long-press it to turn it on and off. When it's on you can use the button to cycle through the 'offline' modes so you don't need to use the app if you just want some quick simple fun.

The modes in order are: low, medium, high, pulsate, wave, wave2, wave3, stop.

If you'd like more complex patterns you'll need to connect the app and either control live, record a pattern or download one.
Sizes and specs
The Lovense Hush comes in two sizes. The smaller is 1.5in (38mm) and the bigger is 1.75in (44.5mm). The other dimensions are the same for both:
Total length: 4.76in (121mm)
Insertable Length: 3.8in (97mm)
Base Length: 3.15in (80mm)
Neck Width: 0.75in (19mm)
In the box you get the Lovense Hush Interactive Buttplug, a USB charging cable and a User Guide. The toy itself is IPX7 Waterproof, so you can take it in the shower with you! Since IPX7 means it's waterproof for up to 3feet (~1m), you can technically use it in the bathtub too, but taking it in a pool or deeper hot tub might not be the safest idea.
Remote control
Remote control works the same way as with any other Lovense toys. You can add a partner in the Lovense Remote app, download patterns or give a control link to somebody with the Lovense Connect application. For our detailed guide to all toys Lovense and how to use the app(s) to get the maximum out of your toy read our Ultimate Lovense Guide!