Kiiroo Pearl 2+ and Pearl 3 review
A much welcome update for an already awesome toy! The Pearl 2+ and Pearl3 dropped simultaneously to replace the original Pearl 2. I made a handy dandy chart to help you decide which one is for you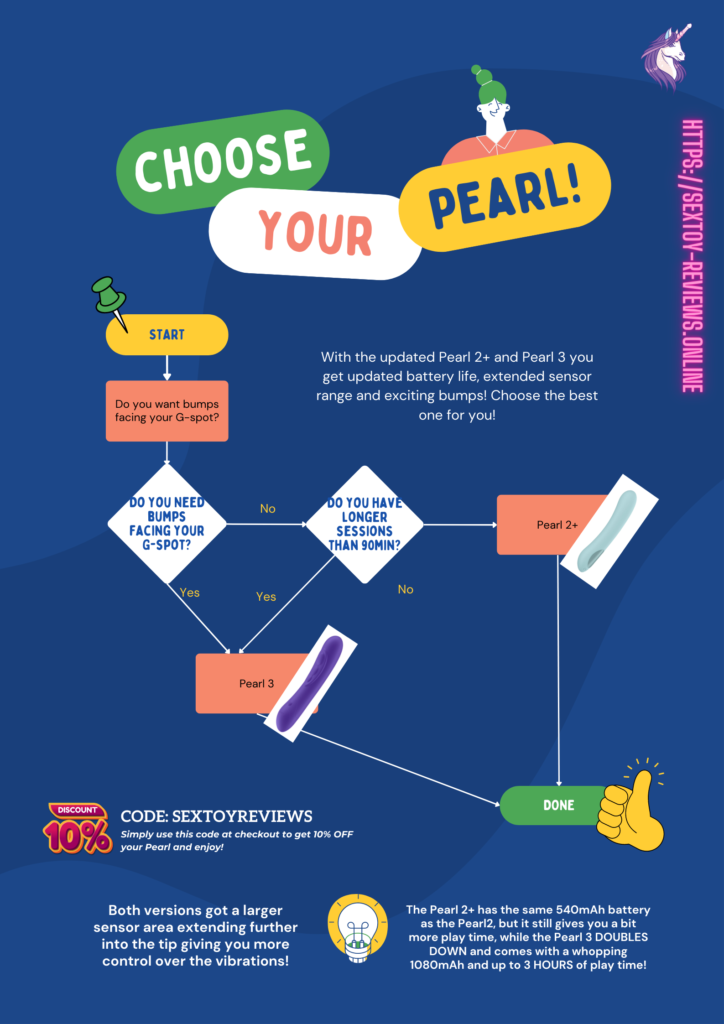 What's new?
Both the Pearl 2+ and the Pearl 3 got a new sensor covering a larger area. It extends further into the tip of the toy, so you get a bigger control surface to control the vibrations in touch sensitive mode, At least that's the claim, but more on that a bit later.
The Pearl 2+ has the same 540mAh battery as the Pearl 2, but it can last up to 90 minutes compared to the 60 minutes of the Pearl 2.
The Pearl 3 got a double sized battery, 1080mAh which gives you a very nice 3h playtime, although charging also takes 3-3.5 hours.
How does the Pearl 3 feel?
The bumps are a very nice addition, you can definitely feel the difference both when moving it in and out, and also when applying pressure on your G-spot (or P-spot if you have a prostate 😋). The motor in both toys is the same model as in the Pearl2, so the vibrations are exactly the same.
The Pearl 2+ and Pearl 3 have three different modes.
In app control mode you can pair them with your smartphone and use the FeelConnect 3 application to control them, give remote control to your partner, sync them with interactive content, another device and much more.
In touch sensitive mode the vibration strength depends on how deep you insert the Pearl, or where you touch it. The sensory area is supposed to be bigger, but after testing it for over an hour I couldn't find any difference compared to the Pearl2 except for it being maybe a bit more accurate. For a more in-depth demonstration about this please watch the video review below.
In manual mode you can cycle through some built-in patterns and enjoy them.
Should you upgrade?
If you have a Pearl 2 and the battery life is still good enough for you, the only reason to upgrade would be the bumps on the Pearl 3. Otherwise choose according to your budget and preferences!
Verdict
The sensory area upgrade isn't really noticeable, but there wasn't that much point in extending it a bit anyways, so I'd say it's good enough as it is. The bumps are a very nice addition, and the 3h+ battery life is amazing! Paired with a very competitive pricing this toy is definitely one worth having on your shopping list!
Video review
3D VR180 showing of both toys