LELO DOT review – Elliptical pinpoint clitoral vibrator
What's the LELO DOT and how does it work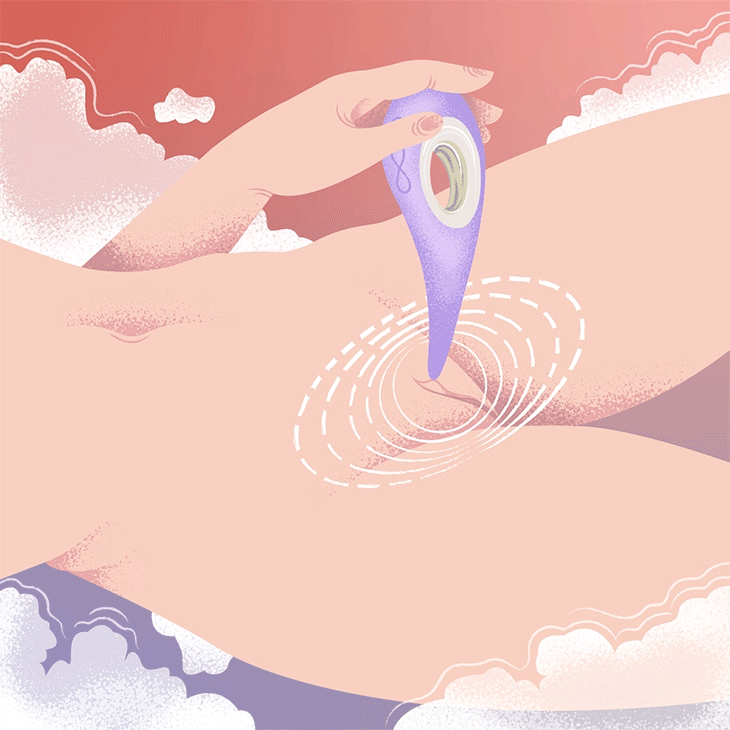 The DOT is LELO's pinpoint clitoral vibrator, which delivers accurate stimulation at the precise spot you want it. It's main feature is the elliptical 'infinite loop' technology. This means that the soft silicone tip is moving along an elliptical path rather than a simple circle. You can change the angle you hold your DOT in to change the shape of this elliptical path. thanks to it's shape you can very finely change how broad of an area you'd like to stimulate going from pinpoint accuracy to a broader area more similar to a regular vibrator.
What does the LELO DOT feel like?
It's most similar to a nice tickling sensation. This toy is not the most intense out there, so if you're an experienced user who likes very intense sensations it might not live up to your expectations. The DOT is mainly targeted at beginner / intermediate users, and people, with sensitive clitorises. Make sure not to limit the use for your vulva! The DOT feels amazing on all areas where you enjoy being tickled or gently stimulated, like the nipples, behind your ears, etc. It's perfect for foreplay. Give it to your partner, have them blindfold you and let them gently explore your body with it carefully examining your reactions.
LELO DOT specs and features
Materials:Body-safe silicone, ABS plastic
Finish:Smooth
Size:60 x 46 x 165 mm / 2.4 x 1.8 x 6.5 in
Weight:98 g / 3.5 oz
Battery:Li-Ion 520 mAh 3.7 V
Charging:Up to 2 h at 5.0 V 500 mA
User time:Minimum 2 h
Standby:90 days
Frequency:133 Hz
Max. noise level:60 dB
Interface:3 buttons
Button control and modes
The LELO DOT has 3 buttons. Long pressing the middle button turns it on and off while short pressing it allows you to cycle through the 8 built-in patterns. Contrary to most other toys you need to long press the plus and minus buttons to increase and decrease the intensity of the vibrations, simply short pressing them doesn't really do anything. One of my favorite features in LELO toys is the ability to travel lock them. By long pressing the plus and minus buttons together you can turn the travel lock on and off. Once turned on, it'll prevent your toy from accidentally turning on in your backpack or luggage. It's a very handy feature that I often wished all toys had. If you plug your toy in for charging, that will disengage travel lock, so make sure to lock it again after charging if you're planning to take it with you.
LELO DOT vs Lovense Hyphy
The DOT feels a bit let intense, although not by much! The biggest difference is of course interactivity. The Hyphy is completely interactive and comes with all the bells and whistles of the Lovense app and ecosystem. It has 3 interchangable heads, while the DOT comes as is. But where the DOT wins is it's shape allowing you to precisely fine-tune the size of the area you're stimulating.
Is the LELO DOT for you?
If you're looking for a pinpoint clitoral vibrator the DOT is a very fun toy to go for. I'd say go for it if you're pretty sensitive on your clit and stronger vibrators prove too intense. It's silky smooth silicone feels very nice and the build quality is superb.
Video review