Tantaly Scarlett Sex Doll Review
Use the code 'ALEC10' at checkout to get 10% OFF!
Scarlett is a sex doll torso from Tantaly. It's smaller than life-size and since it's only a torso (no head or limbs) it's much easier to handle and store and is also much more affordable than a full body sex doll ($189 vs. $1500+). It's a great toy for beginners and an amazing first step to try if the world of sex dolls is indeed what you'd like to further explore.
Size and features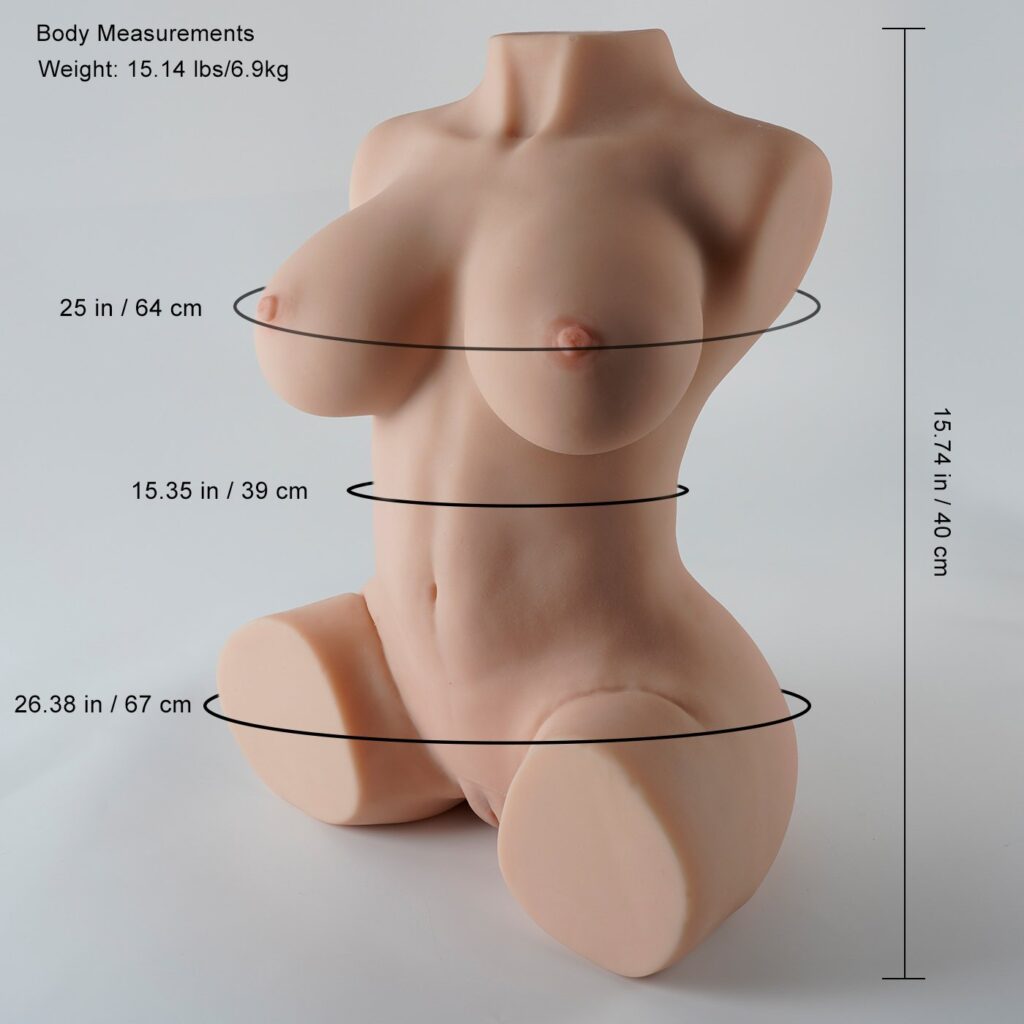 It's about half the size of an average adult, but the breasts and the genitalia are life-size, so they provide an experience that's very realistic! The doll itself is made of skin like TPE, so it's very realistic to the touch and the breasts are a bit firmer than real breasts, but somewhat softer compared to someone having implants, so they are kind of in the middle between the two. The vaginal canal is extremely realistic, it even has a lump outside it towards the belly that makes it feel exactly like how you'd feel a real woman's bladder when penetrating. The anal canal is tighter and feels also very similar to an actual human. It weighs 15.14lbs/6.9kg, so even though it's pretty heavy, you'll have no trouble moving or lifting it.
Compared to a Fleshlight / Kiiroo stroker
More realistic, more room for stuff to make it feel like an actual human's body
Thanks to it's weight it bounces like an actual person, you can actually fuck it
Breasts and titty fucking!
Sleeve / Stroker
Easier to simply sit and stroke with one hand
Easier to clean, care for and store
Cheaper to get multiple variants
How to use, how it feels
Using a sex doll or in this case a torso and for that matter any sex toy is a very subjective experience, so you'll have to find your own favorite positions and modes of having fun with it, but here are some ideas and tips to get you started.
On the bed
Simple missionary, or doggy style. In this case you might need a pillow under your sex doll to lift the vagina and anus a bit so it's at a more comfortable height.
Laying on your back having it bounce on you in cowgirl or reverse cowgirl.
Laying on your side in a spooning position
Having the toy at the edge of the bed while you stand at the edge and playing with it like that
Barstool / Office chair
A barstool can be the ideal height to put your toy on and stand in front of it.
You can sit in your office chair and have it bounce on your lap facing you or away from you
Have any more cool ideas? Comment down below and I'll add them to the list!
What's really cool about it is that it's heavy enough to have that natural rhythm when fucking it where you just give it small pushes and wait for it to bounce back towards you.
Cleaning and caring
This is by far the most important part when it comes to sex dolls! You absolutely need to cleam them and dry them thoroughly after each use. Otherwise bacteria and mold can grow inside them and besides it damaging your toy, it's also a health risk for you. That's definitely a visit to a doctor you'd want to avoid!
Cleaning and caring for sex dolls is a bit more complicated than simpler sex toys like sleeves and dildos. While a simple stroker has an opening on both ends making it easy to just run water through it, sex dolls need special cleaning equipment to make sure they are thoroughly cleaned and dry after use. For this you can buy everything you need at the Tantaly shop here. First you'll need to insert the cleaning tube all the way into the vagina and then the anal canal and squirt lukewarm water in it. The water will gush out next to the tube rinsing the inside of the toy. You'll need to do this multiple times to make sure there's no lube or bodily fluids left in there. You can use mild soapy water or toy cleaner, just make sure it doesn't contain any alcohol to avoid dgrading the sensitive material of your doll. Rinse multiple times after using soapy water or toy cleaner to make sure no cleaning agent is left in the doll because that could cause irritation next time you use it. After all orifices are completely clean turn the toy to a vertical position and hold it, then shake it a bit to make sure all the water comes out of both the vagina and the anal canal of your sex doll. While simple sleeves and strokers can be just left to air dry, your sex doll's orifices are more closed and won't dry by themselves. You can order special absorbent sticks from Tantaly. Just put them in the holes all the way and leave them there for about 15 minutes to allow them to absorb all the moisture. The Tantaly Drying sticks are reuseable and are made out of 100% diatomaceous earth. After using them just put them aside and let them dry. Keep them in a clean dry place where they won't collect dust! If you lost your drying sticks or just don't have any and you need to dry your toy don't worry! You can use tampons too. Just gently push two tampons behind each other all the way to fill the vagina and also two to fill the anal canal. Leave them there for 15-20 minutes then gently pull them out.
Bonus tip: I like to reach in with my finger after this step to make sure it actually feels completely dry all the way. If not, I either insert a dry drying stick, or roll up a paper towel tightly and gently push it in all the way with my finger. I'll give the toy a few presses and shakes and then slowly pull the paper towel out. Repeat if necessary. Don't rely on paper towels for the entire drying process though! It'll require too many insertions and removals and might damage the insides of your doll! If you don't have an absorbent stick just grab some tampons. Throw the tampons away after one use, they should NOT be re-used!
Once your toy is completely dry on the inside and on the outside, it's time for the final step. Apply some baby powder or corn starch to the skin and gently rub it all over the surface of your toy. This will make sure your toy stays fresh and be waiting for you in the best shape possible when you return for some sexy fun!
Verdict
If you want something that's more realistic than a simple sleeve / stroker, and you're looking for an entry level sex doll this might be the perfect choice for you! It's very affordable, shockingly realistic and small enough so you don't need an extra room in your house that'll be "her room" 🙂
Use the code 'ALEC10' at checkout to get 10% OFF!
Video review