KIIROO KEON Interactive male masturbator review
What is the Kiiroo KEON?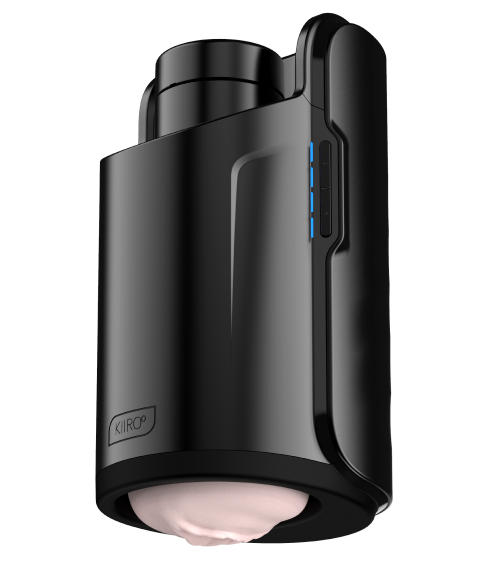 KEON is the brand new Interactive male masturbator from Kiiroo. If you're familiar with the Fleshlight Launch you can think of it as the next-gen version of that toy. Smaller, more compact, more powerful with better features. That's KEON. You can purchase it with or without the Feel Stroker, but make sure to only buy without if you already have a Stroker, because that's the only compatible accessory with this toy. It has a specially designed outer shell that clicks into the KEON, so without that you won't be able to use the toy!
What can KEON do?
A better question is: what can't it do?! If it were able to make me a delicious fish taco by the time I wake up it'd be the full package. Maybe with a later firmware update, lol! You can use the Kiiroo KEON in 4 major ways.
Specifications
Keon by KIIROO
Materials: ABS, PC, Silicone
Finish: 24 VDI + gloss
Size: 220x130x146mm
Weight: 1,1 Kg
Feel Stroker
Outer Casing Material: ABS + PC
Sleeve Material: TPE
Size: 200x84mm
Weight: 800 grams
Manual mode
In this mode you use the buttons on the two sides of the toy to control the stroke length and stroke speed. That's it, not too complicated, but set it right, close your eyes and it'll feel like somebody is wokring hard on your cock, pretty amazing tbh!
Interactive content
Thanks to Kiiroo's mind-blowing tech, you can sync your toys with interactive content such as certain videos on pornhub or other sites designed specifically for interactive content. In this mode KEON syncs up with the video you're watching and mimics the movements on the screen.
You need to have KEON connected to your phone with the FeelConnect 3.0 applicaton, and you need to add the website in the app first!
Touch control
Link your KEON to your phone with the FeelConnect app, and you can control it from your phone. Give the phone to your partner and have them play with you and take you all the way with this exciting new way of playing in the bedroom!
Remote Sessions
If you're in a long-distance relationship, or traveling a lot and not always spending the night at home, or if you're quarantined spearate from your loved one KEON can help you feel more connected! You can chat or video call in the FeelConnect app, and you can share access to your device with one tap. A control panel will appear on your partner's phone and they can start controlling your toy right away! Want to take it even further? Well, if your partner also has an interactive Kiiroo toy, such as the Pearl2 they can also share access with you in your chat/video session. If both of you share your toys, they go into an interactive remote sex mode, and since the pearl has sensors in it, it can detect how fast and how deep it is being inserted, and transmit all that information through the app, so KEON can mimic it perfectly! Bottom line? Actual remote sex with your partner! Your KEON will stroke your cock exactly as they are moving the Pearl. Welcome to the Future! This interactivity only goes one way in the case of a KEON-Pearl2 pairing, since KEON is an 'active' device and Pearl is a 'passive' device in terms of KEON moves the Stroker and Pearl needs to be moved by hand.
Some fun games you can play: Sync up the KEON and the Pearl. If you're the person with the Pearl, start playing with yourself and watch your partner. Can you make him cum before you do? Can he endure and hold back all the way until you cum?
What's new?
If you're familiar with the Fleshlight Launch or already own one, here's what's new so you can decide if upgrading to KEON is for you.
Touch controls replaced by buttons
Touch surfaces seemed like a sweet idea on the Launch but it was a real nightmare to use in reality. The two touch panel thingy was just not responding the way you wanted it to, you had to train some muscle memory to be able to do the precise movements you needed for the toy to react and do what you want, it was just annoying. KEON has easy, simple buttons for you. +/- on the left side to adjust stroke length and +/- on the right side to adjust speed. That's all. It also has two LED strips next to these controls showing you the exact setting you're at so you'll know at a glance what speed and what length you're at.
Smaller, more compact toy
The toy itself got smaller and more compact. It's easier to store, takes up less space when traveling and easier to hold too. It also fits better between your legs allowing for some more comfortable placement while using it.
Pause feature!!!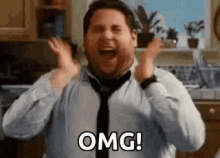 While the other features are great, this is the one that just makes this toy SO MUCH BETTER than the Launch! If you're watching some interactive content, or playing in manual mode, a single press of the power button instantly stops the toy and pauses the action. Press it again and it continues where it left off. This turns this device into the ULTIMATE STAMINA TRAINER! Hold your orgasm as long as you can but right before you cum just pause it. Give yourself a few seconds, then let it continue. With the Launch I frequently ran into cumming earlier to interactive content than I wanted to since I had zero control over the stroking and grabbing the mouse, hitting pause on the video and waiting for that few tenths of a second for the toy to actually stop too was way too much and was too annoying to do. The KEON made this simple, and perfect. I love you Kiiroo!
Faster charging
It charges slightly faster than the Launch did. A full charge still takes 4 hours, so be patient 🙂 Also don't plug it into your laptop or PC, because they provide too little power and it'll take forever to charge. Use a wall charger like the one that came with your phone.
Faster stroking up to 230/min compared to 180/min
Stroking speed also went up, but only by a little bit. Still mind blowing how much power this toy has!
Better placement of the power button
This sounds like a small thing, but it's actually huge! On the Launch, a big chunk of the front of the device was actually pressable acting as the power/mode select button. If you weren't very careful and held it the wrong way it was really easy to accidentally switch it to manual mode while enjoying some interactive content. It was very frustrating. The KEON solves this by having a much smaller button for power, an even smaller one for mode selection, and having them both where there's almost zero chance of you accidentally pressing them.
How it feels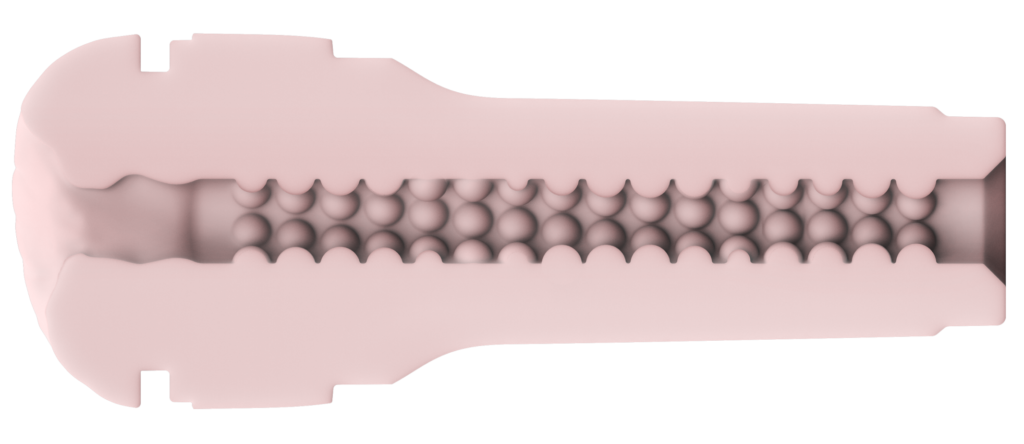 It feels like having sex. Well, as much as a toy can make you feel that way. Sex is so much more than just genital stimulation. It's the sound and smell of the other person, feeling their touch on your skin, their breath on your neck. But a good quick fuck? Now that's almost exactly the same as you get with this toy! You won't be making love to it, but it'll fuck you hard and drain your balls until they look like two raisins forgotten about in the back of your fridge. It feels like somebody slamming you down onto the bed or into your chair, hopping on top and riding you like there's no tomorrow! You just hold on and try to last as long as you can.
Life hacks!
You know we're always about life hacks, so here's two quick one for you!
Turn it into a fuckmachine
Just grab a suction cup dildo, or attach a dildo in any way to the top end of the stroker, and you have yourself an interactive fuckmachine! You can see a quick demonstration in the video below at 17:09, or by clicking here.
Use other sleeves in the stroker
While we think Kiiroo did an amazing job with the sleeve and it's all you'd ever need, if you want some variety, there are a few possibilities for you. We tried a few different brands and here are the results.
Lovense Max and Max2: Too small. You would need to use something to fill the gap in the plastic case, but since they are at least not too big, technically you can use them, but it's not simple.
Satisfyer Men: Too thin. Again, you would need to use something to fill the gap in the plastic case, but since they are at least not too big, technically you can use them, but it's not simple.
Fleshlight sleeves: Not a perfect match, but it fits well enough and stays in place securely even on the highest speed. If you have an extended set of Fleshlight sleeves that you've invested a lot of money in, it's pretty understandable that you want to be able to use them in this toy. Or any other toy too. Why not, right?
Verdict
I was really excited about this toy and while I really loved the Fleshlight Launch, those small annoying things made me use it very rarely. The KEON however…. I think this toy is going to make a visible increase on my power bills! I will use it so much it might be considerend industrial usage and void my warranty! Welcome to the future guys!
Video Review